Halaman
1
dari
1
•
Share
•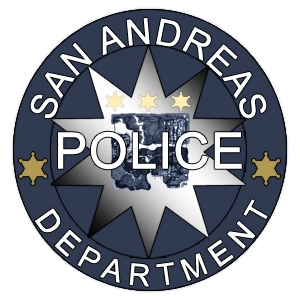 SAN ANDREAS POLICE DEPARTMENT
RECRUITMENT REQUIREMENTS
Over time, we found quite a few people got denied due to the same reason of not meeting/fit the Recruitment Requirements set by the SAPD Training and Recruitment Unit.

Because of this, we have decided to move the requirements from the main thread over its own post in the Police Recruitment Desk, as we understand that the requirements can get buried under all the other information and can sometimes be missed.

In order to ensure that you have seen this thread, please respond to this thread with a 'Read and Understood' after reading the requirements below.

(In Character Requirements)
1. Must be 21 years of age or older.
2. Must be a graduate of a U.S. high school or the equivalent.
3. Must be able to read, write, and speak the English language.
4. Must be of good moral and ethical character.
5. Must be a citizen of the United States or a permanent resident alien.
6. A clean criminal record is a must. However, an exception can be made for certain misdemeanor charges.
7. Must agree to an extensive background check that probes previous employment, financial, educational, and military records.
(Out Of Character Requirements)
1. Your character within SAPD must be the main character.
2. You are required have Teamspeak 3 installed on your PC/Laptop and you have to able speaking and interacting in teamspeak.
3. Your internet connection must above than 300 kbps, because you will be in charge to online teamspeak while you ingame.
4. You must understand how to role-play and providing detailed role-play.
5. You are required to active in forum and ingame.
6. Faction jumper is prohibited.
7. You are not allowed to TROLLING in the SAPD.
8. You are required to maintain IC and OOC attitude.
9. Do not only active for a few days after you have invited to this faction, fulfill the agreement on (9) of Application.
10. Be an objective person, be neutral, and do not nepotism.
11. Do not storytelling while you writing your reasoning of "why do you want to be a Police Officer" in the SAPD application.
12. You are required to have What's App installed on your phone.
13. Minimum 16 years old or older.
14. Must be an active player in the server for at least six (6) months or more.
15. You must not apply more than one faction at a time.
16. Able to write/speak in english.
17. No OOC Jail record within one month.
18. No banned record within 3 months.
19. In a recruitment process, you are not allowed to name change.
20. You must not under banned in the government faction (FD/GS).
If you are reading this message here, then you have more than likely actually read the requirements. Thank you. Don't actually respond with R&U, but instead please reply with "Requirements understood" so that there's a higher chance of you actually having read all of the above!
Admin




Jumlah posting

: 2


Join date

: 03.06.17



Before post! Please readding this topic !



Jumlah posting

: 2


Join date

: 08.06.17



---
Permissions in this forum:
Anda
tidak dapat
menjawab topik